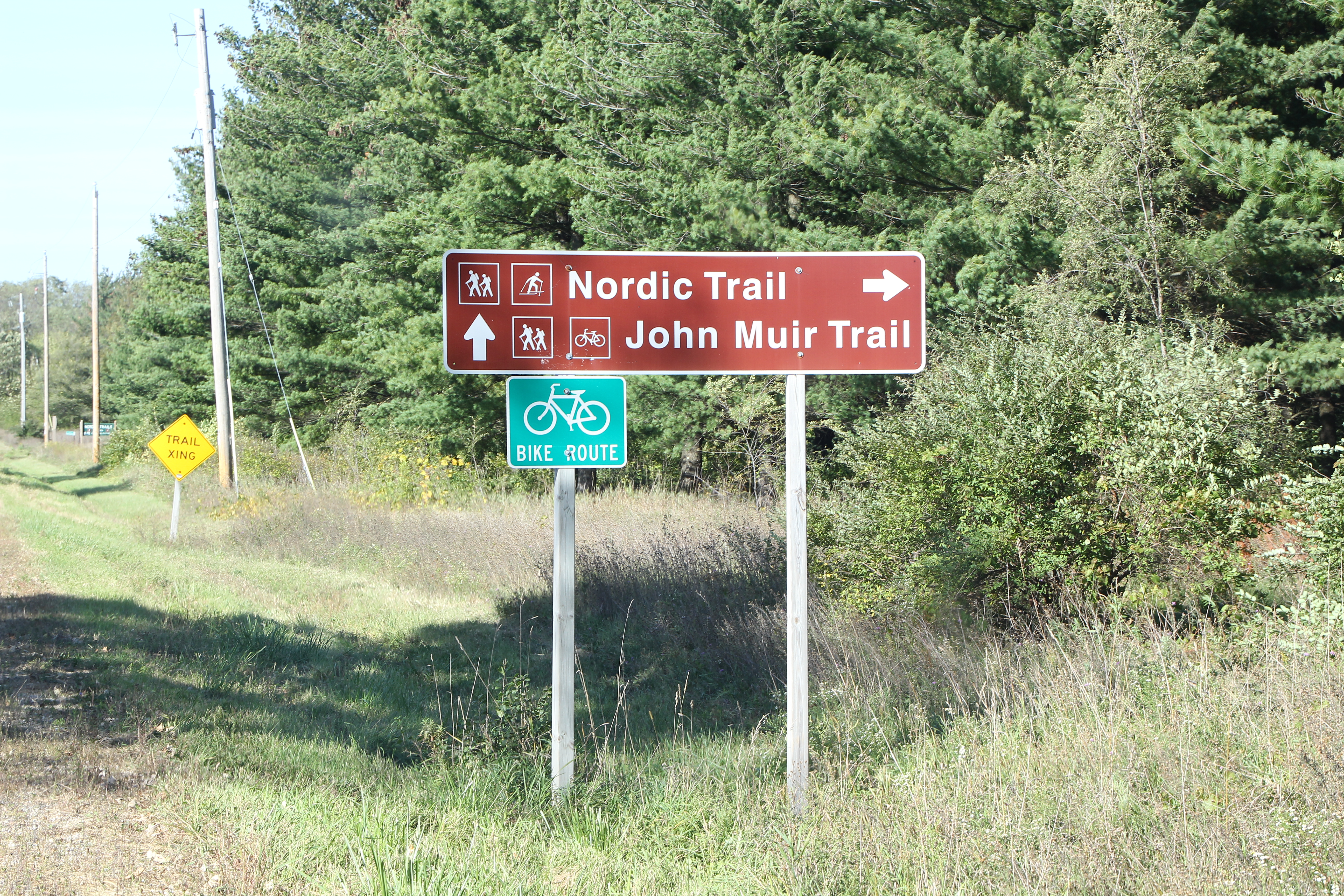 There are many reasons to explore Southeastern Wisconsin in the fall, crisp air, cool nights, and brilliant fall foliage to name a few. Nowhere is it more spectacular than the Kettle Moraine State Forest Southern Unit and surrounding lake areas of Whitewater, Lauderdale, and Lake Beulah. Located just a short drive to the Chicago and Milwaukee metro areas, the forest offers numerous hiking and biking trails, and nearby lakes, rustic roads, farmers markets, apple orchards, golf courses, resorts, shops, and scenic wonders, no wonder it is one of the state's top attractions.

One of the best ways to enjoy Fall is with a fall hike or bike ride. Here are some ideas where to hike and bike throughout the Kettle Moraine area:

The John Muir & Emma Carlin Trails
Located a mile north of the LaGrange Country Store at the intersection of Hwy H and Hwy 12 in the Southern Kettle Moraine State Forest, you are convenient to Whitewater Lake (5 miles), Lauderdale Lakes (3 miles), and Lake Beulah (8 miles west). Excellent facilities are located on site, including a paved parking lot, bathrooms, a bike wash, and drinking water.
The John Muir Trail on County Highway H north of the Town of La Grange and US Highway 12 and south of the Town of Palmyra is the most popular trail system within hundreds of miles. The John Muir Bike Trails are single-track, mountain bike trails that are rough, natural surface trails. Five different loops ranging from 1.25 miles to 12 miles.
The Emma Carlin Trail, on County Highway Z just south of State Highway 59, goes through a hardwood forest with mostly hilly terrain. Three color coded trails ranging from 3.5 to 8 miles.

Ice Age National Scenic Trail
Explore the 30 miles of Ice Age Trail that goes from the southernmost end to the northernmost point of the Kettle Moraine State Forest-Southern Unit. It's part of the Ice Age National Scenic Trail that eventually will go 1000 miles through some of Wisconsin's most scenic areas.

The Kettle Moraine area is also a great place to vacation or live. The Southern Unit extends from just west of North Prairie, southwestward to Whitewater Lake, south of Whitewater. Other nearby towns include Eagle and Palmyra. Features of the Southern Unit include Ottawa Lake Recreation Area which has boating, campgrounds and hiking and ski trails, and Whitewater Lake Recreation Area, which also features camping and boating. The Forest is host to Old World Wisconsin, a collection of farmsteads, recreating the homes and lives of settlers, and also to the McMiller Sportsmen Center, public hunting practice ranges.
If hiking, biking or just the pure enjoyment of Southeastern Wisconsin's Fall Color is what you have been looking for, then the Kettle Moraine area is for you. Check out my listings in the surrounding areas of Whitewater, Lauderdale and Beulah and make Southeastern Wisconsin your new vacation or full time home!